This is an example of one story being told holistically: the architecture and the interior talk to each other – beautifully. Unadorned materials are used inside and out, completing the narrative.
Rob Mills
With a brief to create a convivial coastal retreat where the client's family could gather at key times of the year, Rob Mills Architecture & Interiors took the climate and the culture of the area as guiding principles. The land in Sorrento, on Victoria's stunning Mornington Peninsula, sits beside traditional stone and brick houses, and RMA wanted to reinvent the genre with a Palladian-influenced villa that had its own assertive personality.
There is a grandness of scale partnered with a well-judged sense of proportion, a sophistication of design paired with a beach-side rusticity. The consistent use of concrete, honed basalt and hand-hewn timbers delivers a signature RMA palette where the honesty and character of the materials are evident. "The imperfections in the concrete and timber are left untouched to express informality," says Mills.
The pool level, with its entertaining terrace and visually significant fireplace and chimney, acts as a podium to the house, facing north to capture the sun. By connecting directly to the large living area, the indoor and outdoor spaces become one. Through views give the house a sense of transparency and lightness that is a counterpoint to its measured façade: voids, expanses of operable glass and open-tread stairways encourage natural light and sea breezes, drawing the coastal atmosphere into the house itself.
RMA created the interior with its subdued and restful tonal palette playing out in furniture pieces from the world's leading designers – Piero Lissoni, Andrew Lowe and Jean-Marie Massaud.
Art is bold and propped, rather than hung, emphasising the relaxed quality of the space. "At the end of the day, a beach house is a place that can offer all the sophistication and convenience of modern life but is cloaked in casual dress," says Mills.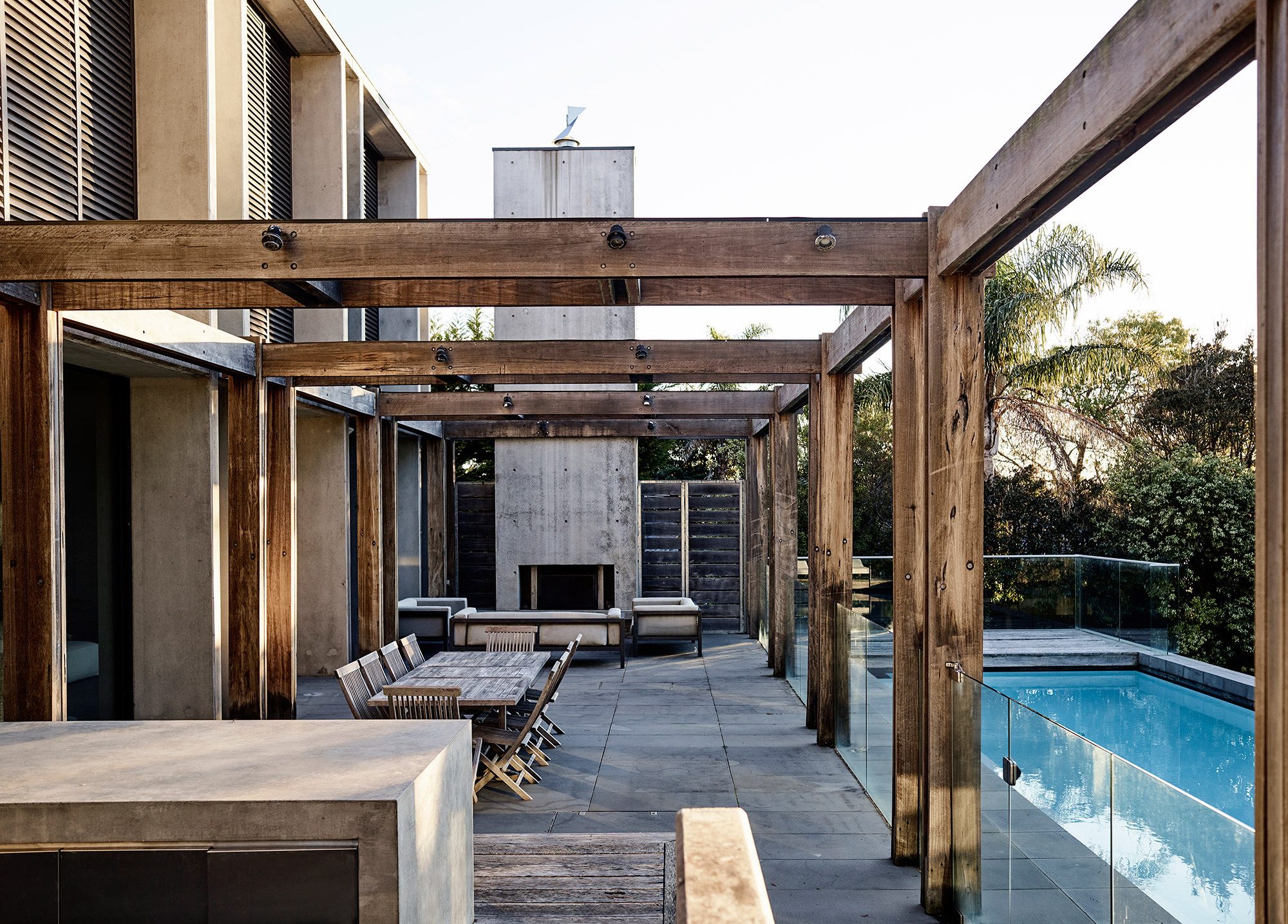 Awards
World Interior News Award, 2016
Winner, Interior Practice of the Year
Australian Interior Design Awards, 2012
2012 Winner, Residential Interiors
A+ Architizer Award, 2013
Winner, Residential Interiors
International Design Awards, 2011
Silver, Residential Design
World Architecture News, 2011
Belle Coco Republic Interior Design Awards, 2011
Finalist, Interior Design Awards