With Armadale Residence we aimed to create a healthy building. To achieve this we looked not only at fresh air and the proximity to the trees and the park but also at the use of organic and low-VOC paints and glues, indirect lighting, cross-ventilation and low-e glass. It is the experiential aspect of architecture and we are paying more and more attention to it at RMA.
Rob Mills
The original warehouse at Armadale Residence, in the Melbourne suburb of Armadale, has been a pivotal building for Rob Mills, as he connected profoundly with its expansive interior space while residing there himself, before embarking on its reincarnation as his family residence. What was once a cardboard factory on the edge of a tree-lined park has been made habitable in broad, sweeping gestures that play to the strengths of the cavernous interior.
As it is a personal project, renovating the space has been challenging. "When you design for yourself there are no frames of reference," says Mills. "I was keen, however, to ensure that there is enough light, that the materials push a strong design ethos and, moreover, that it becomes a family home as opposed to a bachelor pad."
The building has been divided in a way that is functional and awe-inspiring. There is a self-contained two-bedroom apartment on the ground floor, which can be rented or used for extended family, while the main living area on the first floor – in the European tradition – has expansive ceiling heights of 3.4 metres.
There is a sense of luxe at play, not only in the space but in the selection of materials, how they are used and interact. The walls are render and velvety stucco, the stone floors are from a sixth generation quarry in Verona, a grey/white veined marble with traces of brownish-red, while the tour de force of the brass kitchen evokes a spirit of art rather than domesticity. The spiral staircase, a signature Rob Mills element, sits under glazing, while the soft rendered wall surface allows the eye to glide, unimpeded, to the sky above.
Door frames are deep and brass-lined, while the cocooning "winter room", influenced by his studies of the traditional English manor house, with its timber panels and recessed windows, takes on another character entirely.
The flourish of a restored grand piano is counterpoint to curated furniture pieces and objects, which bring a layered sense of character to the pared-back shell.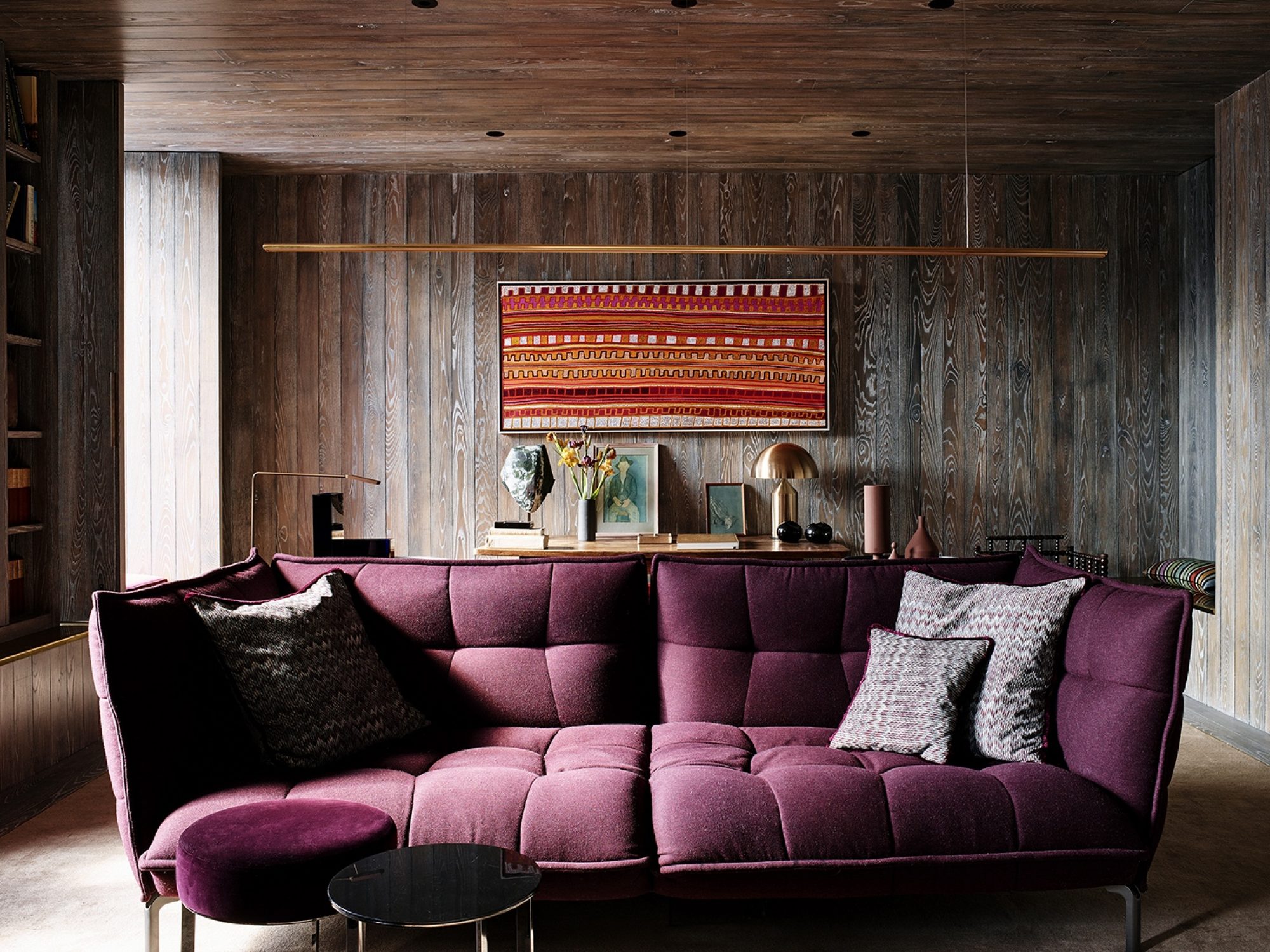 Awards
World Interior News Awards, 2017
Winner, Residential Interiors
driven x design, San Francisco, 2017
driven x design, New York, 2017
The American Architecture Prize, 2017
Winner, Firm of the Year
Honourable Mention
World Architecture News Awards, 2017
INSIDE World Festival of Interiors, 2018
Finalist, Residential Category
ABB Leaf Awards, 2018
Finalist, Residential Building
RAIA Awards, 2018
Finalist, Interior Architecture